Boca Raton Eating Disorder Therapist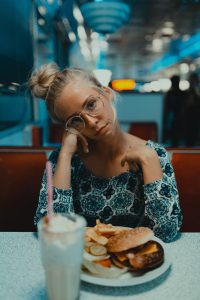 According to the National Eating Disorders Association, nearly 20 million women and 10 million men will experience an eating disorder at some point in their lives. These serious but treatable mental and physical illnesses affect people of every age, gender, race and socioeconomic group. And while there is no known cause of these disorders, therapy is a very effective tool in overcoming them. If you're located in Southern Florida and need help overcoming your toxic relationship with food, schedule an appointment with experienced Boca Raton eating disorder therapist Abby Bernstein LMHC.
What Are Eating Disorders?
The American Psychiatric Association defines eating disorders as illnesses where people experience severe disturbances in their eating behaviors in relation to their thoughts and behaviors. Those suffering from these illnesses often obsess about food and their body weight.
As a licensed Boca Raton eating disorder therapist, Abby Bernstein has spent years studying the effect of these diseases in order to better understand the best method of treatment. During her graduate study, she specialized in the etiology and treatment of various eating disorders through the implementation of integrative therapeutic approaches.
At her clinic in Boca Raton, she counsels adults and adolescents that suffer from the following eating disorders.
Anorexia Nervosa
Those suffering from anorexia nervosa go to great lengths and personal suffering to achieve the lowest weight possible. Most often motivated by an intense fear of becoming fat, individuals battling this disease will skip meals, compulsively exercise or misuse laxatives and other diuretics to prevent their bodies from consuming calories.
In addition to rigid diet restrictions and making excuses for not eating, people suffering from anorexia nervosa will often wear baggy clothing to hide their shape and will frequently weigh themselves throughout the day.
Physical side effects of this behavior include hair loss, muscle weakness, dizziness and stomach cramps. They may also experience poor wound healing, an impaired immune system and cold, mottled hands.
Seeking treatment is incredibly important as prolonged suffering from this disease can result in irreversible damage to one's health and eventual death.
Atypical Anorexia
Atypical anorexia is just as serious as anorexia nervosa as patients often present with similar symptoms. However, to be considered atypical, the sufferer must not be medically underweight. Often referred to as the "invisible battle," those dealing with atypical anorexia may be of a healthy weight or even considered overweight, but are still engaging in the same damaging behaviors.
It's essential that counseling of some kind is prescribed to these people in particular because they may often consider their habits to be not as extreme as an eating disorder. They usually view themselves as not having an eating disorder, or being able to fully manage their eating behaviors, and therefore therapy is unwarranted. However, the absence of a low body weight does not reduce the severity of this disease.
Bulimia Nervosa
Those experiencing bulimia nervosa are trapped in cycle of binge eating and purging. Like those suffering from anorexia, individuals with bulimia will attempt to restrict their food intake to achieve a low body weight. However, to compensate for this restriction, they will often go on eating binges. A binge is considered consuming an amount of food in two hours or less that is reasonably more than an average person would eat in the same time frame.
After a binge, the person will then self-induce a purge, usually through vomiting or by consuming laxatives. They may also try to combat the extra calories by excessively exercising.
Those with prolonged cases of bulimia nervosa may experience fear of public eating, stealing or hoarding food, and developing food rituals. Physically, they can suffer from swelling in the cheeks or jaw, callused hands and knuckles from self-induced vomiting, and discolored or decaying teeth from overexposure to stomach acid.
Binge Eating Disorder
Binge eating disorder is the most prevalent eating disorder in the United States. Like bulimia nervosa, individuals with binge eating disorder will gorge themselves on large amounts of food within a short period of time. They may eat until they are uncomfortably full, or even when they are not physically hungry. Like those with bulimia nervosa, they often experience shame, guilt and disgust with their behavior at the end of each binging episode. Unlike bulimia, those suffering from binge eating disorder do not engage in compensatory behaviors like vomiting or excess exercise.
Exercise Addiction
While exercise is largely considered a healthy part of any lifestyle, those battling exercise addiction have taken this to the extreme. This illness often coincides with bulimia, anorexia and orthorexia.
Those suffering from exercise addiction can succumb to depression or feelings of guilt and shame if they aren't able to exercise. They spend at least two hours a day exercising, and will often forgo other responsibilities. They do not take rest days and don't consider the experience to be enjoyable, but is instead a chore.
It's important to see a therapist for this eating disorder because of our culture's tendency to see all exercise as a good thing.
Orthorexia
Similar to exercise addiction, orthorexia takes the idea of being healthy to a new level of obsession. These individuals will go above and beyond normal tendencies to avoid fat, sugar, salt, preservatives or pesticides. They obsess over somatic symptoms and how it relates to the food they consume, further encouraging their behavior. They set increasingly restrictive guidelines when it comes to acceptable foods, and will often experience feelings of satisfaction and joy from sticking to them.
Boca Raton Eating Disorder Therapist
If you or a loved one is suffering from any of the above listed illnesses, schedule an appointment with Abby Bernstein LMHC. In addition to being an active member of both the National Eating Disorder Association and The Alliance for Eating Disorders, Abby has been involved in eating disorder prevention throughout the South Florida community for years. She is passionate about helping clients overcome their toxic relationships with food and body image. For personalized and holistic counseling services, contact Boca Raton eating disorder therapist Abby Bernstein today.