Eating Disorder Therapy South Florida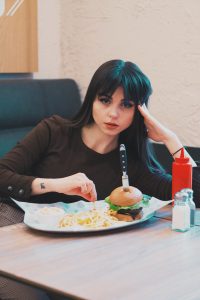 It is estimated that at some point in their lives, 20 million women and 10 million men in the United States will experience an eating disorder. These treatable but serious illnesses affect people of every demographic, no matter their age, sex, gender, race or socioeconomic standing. And while nobody knows what causes eating disorders, there is a growing consensus of data that suggests that a range of biological, physical and sociocultural factors can lead to developing an unhealthy relationship with food. But there are ways to help. Abby Bernstein offers comprehensive eating disorder therapy in South Florida at her Boca Raton clinic. If you need help overcoming an eating disorder, schedule an appointment today.
Eating Disorders: Health Risks
Of all known psychiatric illnesses, eating disorders have the highest mortality rates. In addition to the health complications that come along with starvation, binging, purging and over exercising, it is common for those who are suffering from an eating disorder to attempt suicide. Skipping meals may seem trivial, but repeated self-induced purging, long term starvation and overexertion can lead to heart attacks, kidney failure, electrolyte imbalance, muscle weakness, osteoporosis and more.
Slowed digestion can also lead to stomach pain and bloating, fluctuations in blood sugar levels, bacterial infections, and can even cause feelings of nausea. Purging methods can also cause constipation, which can be the result of over-dependence and abuse of laxatives and other diuretics. Laxative abuse has the potential to damage nerve endings, leaving the body dependent on these drugs to have a normal bowel movement.
Binge eating has the potential to rupture the stomach, causing a life-threatening emergency. And repeated vomiting introduces stomach acid into the esophagus, which can cause the lining to break down and eventually rupture as well.
Signs & Symptoms of Eating Disorders
A common side effect of most eating disorders is a sudden and drastic loss in body weight. Sufferers are obsessed with food and often have issues with their body image and will engage in damaging behaviors to achieve the lowest possible weight they can. However, low body weight isn't always a sign of an eating disorder.
Those suffering from atypical anorexia, for example, engage in all the same damaging behaviors as those with anorexia nervosa, but they aren't considered medically underweight. They most likely began their eating disorders as obese individuals, and although their starvation or purging techniques may have dropped numbers on the scale, they may not have lost enough to be considered underweight. These individuals are especially hard to treat because they often don't see themselves as having an issue, since a medical professional would not consider them at a weight that would cause concern.
Those battling binge eating disorder also buck normal signs and symptoms of an eating disorder. Like bulimia nervosa, those with binge eating disorder will eat abnormally large amounts of food in a short period of time. However, they do not engage in purging behaviors. Binge eating disorder is one of the most common eating disorders in the United States, and most likely contributes to the large amount of overweight individuals within the nation's population. They are still causing physical harm to their heart, bones, and other vital organs. But because they are not losing weight, they most often are not considered to be suffering from an eating disorder.
Eating Disorder Therapy in South Florida
When it comes to treating those suffering from eating disorders, it's important to realize that often it's not "just about the food." Getting to the core of the mental and physical illness is essential in understanding the triggering behaviors or environments that encourage the disorder. In her eating disorder therapy sessions, Abby utilizes a combination of cognitive behavioral therapy and dialectical behavioral therapy to understand the underlying causes of the destructive behavior.
She also understands that for long term results, establishing a supportive team is imperative. Which is why she takes time to establish a treatment team in conjunction with applying an integrative approach to therapy that focuses on identifying core issues that maintain the eating disorder behaviors.
Through personal exploration and self-awareness, clients are able to work collaboratively with her in exploring their emotions, behaviors and thoughts in a safe and non-judgmental space.
For personalized and effective eating disorder therapy in South Florida, schedule an appointment with Abby Bernstein today.